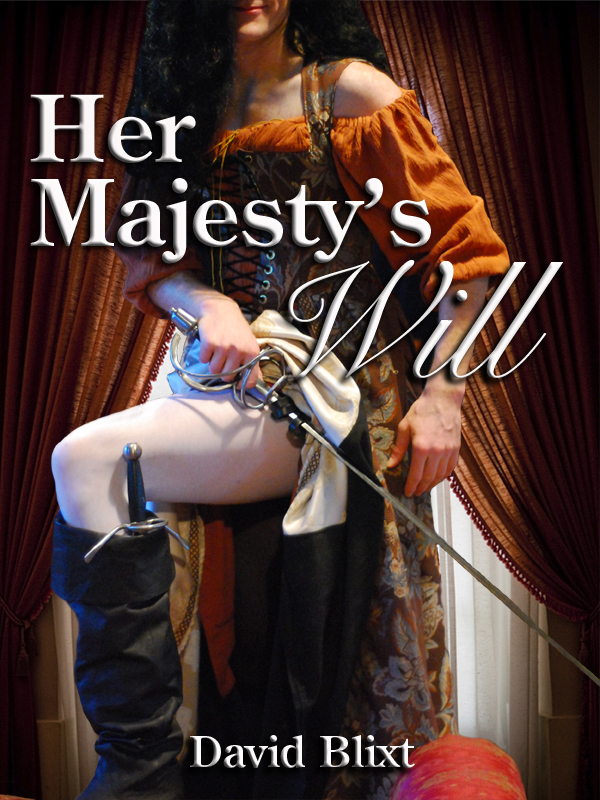 Thanks to the wonderful Rob McLean for bringing to life an image I've had in my head for over two years. Thanks to Paul Metreyeon for taking the photo. Thanks to Elizabeth MacDougald for the dress. The model shall remain nameless until I have permission from his mother.
April 23rd – HER MAJESTY'S WILL – a novel of Will Shakespeare, Kit Marlowe, and the Babington Plot.
Before he was famous, he was a fugitive. 
Before he wrote of base humanity, he lived it. 
Before he was the Bard of Avon, he was a spy.
England, 1586. Swept up in the skirts of a mysterious stranger, Will Shakespeare becomes entangled in a deadly and hilarious misadventure as he accidentally uncovers the Babington Plot, an attempt to murder Queen Elizabeth herself. Aided by the mercurial wit of Kit Marlowe, Will enters London for the first time, chased by rebels, spies, his own government, his past, and a bear. 
Through it all he demonstrates his loyalty and genius, proving himself to be – HER MAJESTY'S WILL.