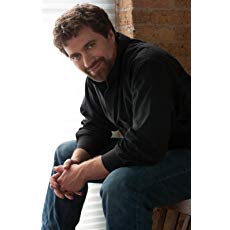 About David

 

"New readers, beware!
Once you start reading one of
David's books, real life comes
to a screeching halt until you
finish it."

– Sharon Kay Penman
Author David Blixt's work is consistently described as "intricate," "taut," and "breathtaking." A writer of Historical Fiction, his novels span the Roman Empire (the COLOSSUS series, his play EVE OF IDES) to early Renaissance Italy (the STAR-CROSS'D series) up through the Elizabethan era (his delightful espionage comedy HER MAJESTY'S WILL, starring Will Shakespeare and Kit Marlowe as hapless spies). His novels combine a love of the theatre with a deep respect for the quirks and passions of history. As the Historical Novel Society said, "Be prepared to burn the midnight oil. It's well worth it."
David has been a repeated Editor's Choice from the Historical Novel Society (VOICE OF THE FALCONER, FORTUNE'S FOOL, THE FOUR EMPERORS) and 2015 Finalist for the M.M. Bennetts Award for Historical Fiction (THE PRINCE'S DOOM).
David continues to write, act, and travel. He has ridden camels around the pyramids at Giza, been thrown out of the Vatican Museum and been blessed by John-Paul II, scaled the Roman ramp at Masada, crashed a hot-air balloon, leapt from cliffs on small Greek islands, dined with Counts and criminals, climbed to the top of Mount Sinai, and sat in the Prince's chair in Verona's palace. But David is happiest at his desk, weaving tales of brilliant people in dire and dramatic straits. Living in Chicago with his wife and two children, David describes himself as "actor, author, father, husband. In reverse order."
For more about David and his novels, visit www.davidblixt.com.