It was the first day of December, 2019, and like Alice, I was down a rabbit hole.
I was working on a short-story follow-up to What Girls Are Good For, my 2018 novel following the early career of groundbreaking undercover reporter Nellie Bly. My new story took place immediately after the exposé that made Bly a household name, her ten days spent as an inmate in the insane asylum on Blackwell's Island.
That experience had been turned into a book, Ten Days In A Mad-House, a terrific and horrifying read that remains hugely influential to this day (the nurses she describes were evidently the basis for Nurse Ratched in Ken Kesey's One Flew Over The Cuckoo's Nest). In order to catch up my readers on where the events of the story fell, I wanted to kick off with Bly receiving an offer from a publisher for that very book.
Trouble was, I had no idea how much money she was offered.
Fortunately, I knew the name of the original publisher, as well as the date of publication. But lacking a Publisher's Weekly to report book deals in 1887, I started following the paper trail of the publisher himself. I thought I might find a contract with another author, or some perhaps some old balance sheets.
Instead I found something unexpected.
The lost novels of Nellie Bly.

Bly's publisher was Norman L. Munro, brother of famed publisher George Munro. George was one of the pioneers of the Victorian-era wave of cheap books for the masses. Ten, fifteen, and twenty-five cent novels were gobbled up by a hungry audience, most of them women, and George Munro also made a fortune from his weekly publication, The Fireside Companion, feeding the public's appetite for every kind of story.
Norman worked for his older brother until 1873, when he decided to launch his own rival weekly, the New York Family Story Paper (this direct competition caused a rift between the siblings, who are said to have never spoken to each other again). And he started publishing books. While he never had the literary heft of his brother's imprint, Norman found success publishing genre novels. He published the Allan Quatermain adventures, and 25 short novels based on the life of French highwayman Claude Duval. In 1883 he launched another weekly, Old Cap. Collier Library, featuring detective stories with a rotating roster of main characters.
Then, in 1888, Norman had an instant bestseller in Nellie Bly's Ten Days In A Mad-House. He immediately asked her for another, and released Six Months In Mexico that same year, reprinting articles Bly had written as the Pittsburg Dispatch's foreign correspondent in Mexico. He clearly was making a fortune on Nellie Bly, reporter.
But Bly had other ambitions. She viewed reporting as a temporary job, a launching point for a broader literary career.
She wanted to be a novelist.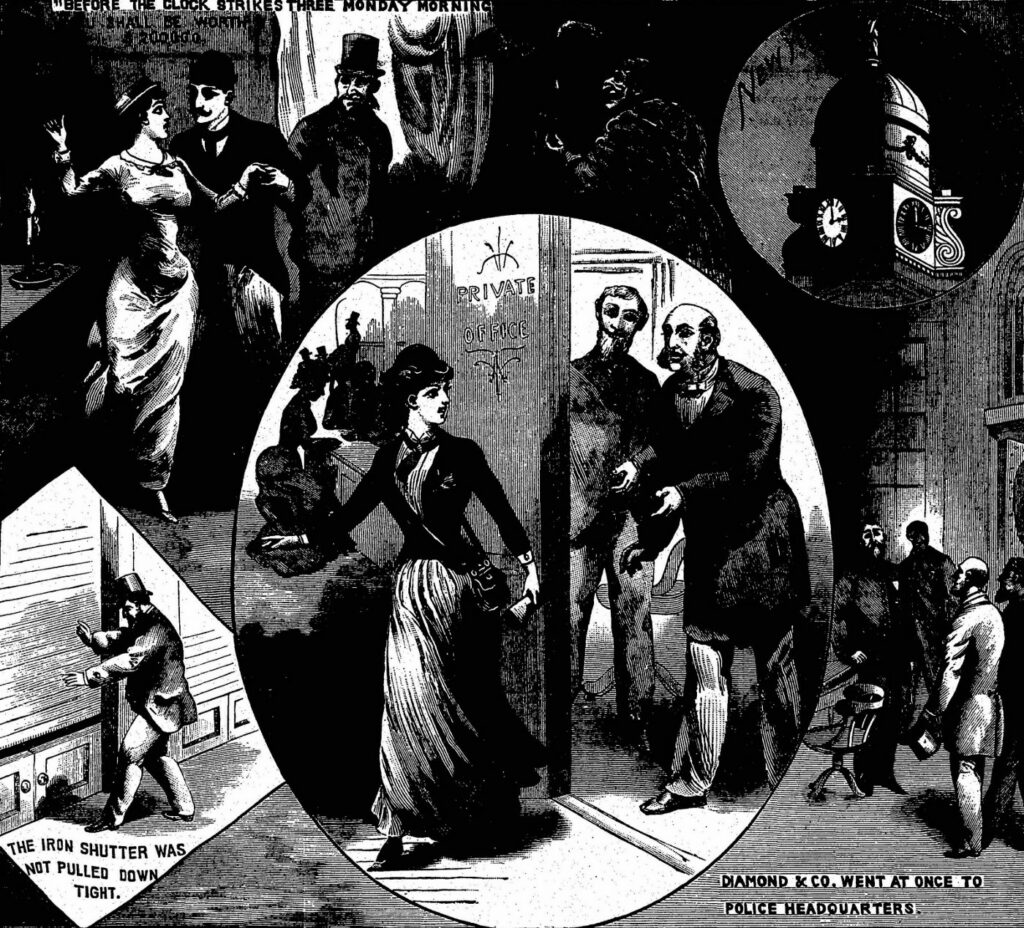 Bly had spent the three years after her cannon-blast debut in the pages of the New York World trying to top herself. She'd exposed the 'King of the Lobby' in Albany, outed a serial procurer of girls in Central Park, and interviewed the most notorious would-be murderess of the day (all these stories and more are collected in Nellie Bly's World, Volumes 1 and 2). She kept putting herself in ever greater peril in order to get a story. Why? Because the titillation of 'a girl in danger' sold papers — especially during the height of Ripper hysteria in London.
She reached the zenith of her fame by racing around the world in an attempt to best the fictional record of Jules Verne's character Phileas Fogg from Around The World In Eighty Days. She even got to meet Verne during her trip.
Bly was not alone in the phenomenon of "stunt girls," but thanks to that three-month race around the globe, she was by far the most famous. There were board games and trading cards based on her journey. Her face was known everywhere, and her ulster coat and cap were iconic. After Queen Victoria, she was arguably the most famous woman in the world.
But for Bly, stunt reporting had taken a toll. She'd begun to suffer terrible headaches. Stories that once would have fired her heart now left her cold. Celebrated and famous after her seventy-two day girdling of the globe, she felt she had reached the peak of what newspaper reporting could offer her.
So when Norman Munro offered Bly a job writing for the New York Family Story Paper, she leapt at it. It's easy to understand why. Munro was offering her $40,000 over three years. Even for a star reporter, the most she could have been earning at the World was $5,000 a year. Munro's offer must have seemed a fortune.

Yet before signing she cleverly insisted her contract allow her to return to reporting without giving up her new career. As she wrote to her friend Erasmus Wilson in August, 1890:
I sent you a newspaper the other day containing a notice of the very good contract I have made with Mr. Munro. It allows me to do reporting work. I had made up my mind never to work for a newspaper again but I can do serial stories for Mr. Munro and never go out of my own home. I am busy on one now entitled "New York by Night." You know all the great English novelists began in this way, so I hope. The woman who wrote "Bootles Baby" which has sold more than 500,000 copies and has been dramatized and played in every city in Europe and America has always been a writer for such story papers. And then Mrs. Burnett wrote for The Ledger until she made a hit as a novelist, so I feel encouraged.
Clearly Bly had high hopes for her literary career. Alas, to that point, her record for fiction did not seem promising. Her debut novel, The Mystery of Central Park, had been published a year earlier, first serially in the pages of the World, then in book form. The story was a murder-mystery loosely based on her 1888 exposé "Infamy of the Park."
While not nearly at the level of, say, Conan Doyle's recently-published A Study In Scarlet, Bly's short novel made use of her intimate knowledge of New York, and contained the same massive end-of-novel confession that Conan Doyle employed in his first two Sherlock Holmes novels.
If Bly had been hoping to make a splash in this new career, alas, it was not to be. Of the four books released in Bly's name between 1888 and 1890, her lone work of fiction was her least regarded. Today The Mystery of Central Park is ridiculed for its stilted style, thin characters, and rather haphazard plot. Everyone tends to shrug off her novel as an ill-fated endeavor, a bump on the road of her true career, reporting.
What strikes me about that first novel, though, is the story of the murder itself: an innocent girl becomes the kept woman of an unscrupulous and ambitious man. When he tires of her, rather than marry her as he promised, he murders her and leaves her body propped on a bench in Central Park.
While Bly did not yet have mastery of the art form, she was still Nellie Bly. She was still motivated by injustices against women.
She was still angry.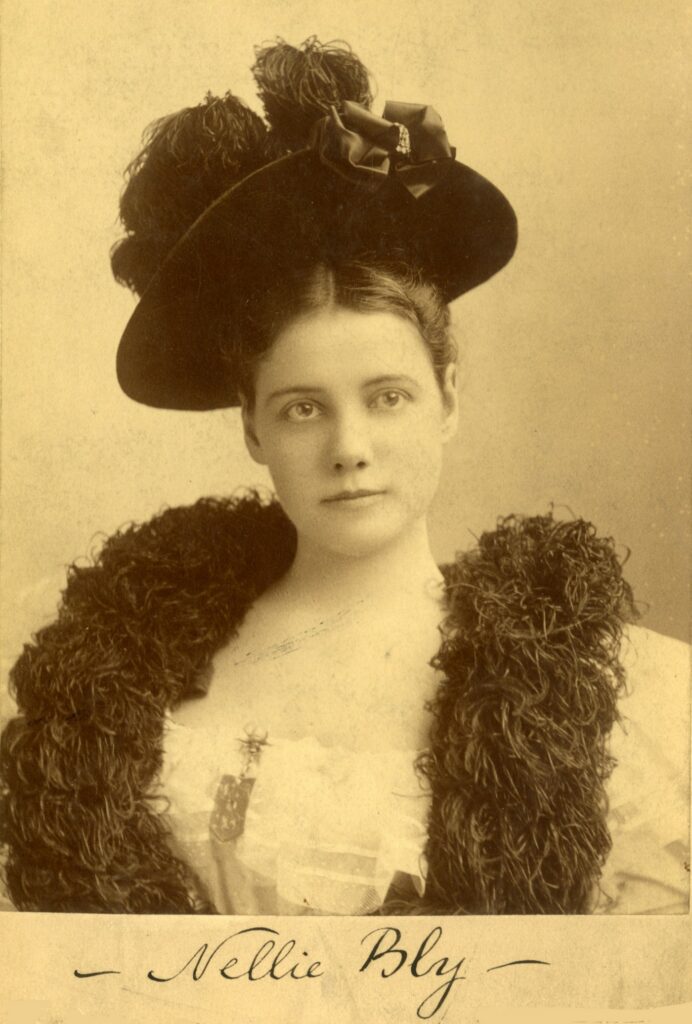 It was Bly's anger that first appealed to the writer in me. I'd heard of her most famous deeds — the madhouse stay and her race around the world — but it was only when I discovered how she got her first reporting job that I became captivated by her.
Reading an article entitled "What Girls Are Good For," twenty-year-old Elizabeth Cochrane was so angry at the premise — that women belonged at home, not in the workplace — that she penned a letter of protest to the Pittsburg Dispatch. We don't know what was in that letter, but it got her an interview, and eventually a job as a reporter. As women did not, as a rule, write under their own names, she was saddled with the nom-de-plume"Nellie Bly," from the Stephen Foster song.
The day I read that story, I put aside all my other writing and for two years focused on Bly, getting to know her writing, her character, her contradictions, her charm, and her passion. Even after completing my novel I was well aware that Ms. Bly had not finished with me. So I pressed on to write the next part of her story.
Which brings us back to the Munro rabbit hole, questing for what Bly was paid for her madhouse book.
On my hunt for her remuneration, I read extracts about the brothers Munro. In one I found a reference to another of Norman's publications, the London Story Paper. Evidently the New York edition was such a success that Norman created a mirror version of the paper across the pond, literally reproducing the New York edition six months later with no changes to the typesetting (which is why you find Christmas poems published in July).
Idly, I started hunting. At once I found searchable records of the London Story Paper at NewspaperArchive.com. So, buying a subscription, I plugged in the name "Nellie Bly" and hit return.
The results generated within seconds. Disbelieving, I stared at the screen.
There they were. The lost novels of Nellie Bly.

It took me hours that first day, collecting all the titles and putting them in order. When I was finished, I found I had eleven novels in all. More novels than any Bly historian had ever imagined she'd written.
The trouble was, half of the pages were completely illegible. Were the scans bad? Or did the original microfilm contain bad copies? It was near impossible to find out, as I quickly discovered there were only three library copies of the original microfilm in the entire world, one in London, one in Sydney, and one in Toronto.
So, in the break between Christmas and New Year's 2019, I drove to Canada to visit the University of Toronto library. A helpful young woman named Sarah found the microfilm for me, and in minutes I was scrolling. Yes, it was the original microfilm that was so faded. I discovered, however, that by zooming in close, I could get better resolution. Good enough to decipher nearly every word.
I emerged from the library blinking and aching, but with a full jumpdrive, certain I now had complete versions of Bly's lost novels. But what to do with them? I approached a few agents, a few publishers, and was repeatedly told there was no interest for my discovery. This agreed with my attempts to sell my Nellie Bly novel two years earlier. I was told my novel about her lacked a "hook." It was suggested to me that I make her a detective, or a vampire, or secretly a man (I kid you not).
So, enlisting several friends to help me transcribe these novels, I determined to release them myself.
From 1890 to 1895, Bly wrote eleven serialized novels in the pages of Munro's paper. Some are silly. Some are genuinely terrific. All of them are very much in line with the gothic pulp romances and mysteries of the era, filled with melodrama and cliffhanger endings.
Nellie Bly is rightly remembered for her reporting work, her early feminism, and her part in the rise of "stunt" journalism. She was also a canny industrialist, a generous employer, a devoted patron to many causes, a tireless fighter for the oppressed and dispossessed. But she was also a novelist.
What I love about these books is the window they provide us into Bly's mind. Finding them has opened up a wealth of new insights into the clever, crusading, contradictory character that was Nellie Bly. I'm delighted to be able to share them — especially today, the anniversary of Bly's first published story in 1885, and her return five years later from her race around the world!
I never did find out what she made from that first book, though.
The Lost Novels Of Nellie Bly are available for pre-order now! Also check out Nellie Bly's World and Into The Madhouse, collecting never-before-seen articles by and about Bly!
For More Information About The Lost Novels Of Nellie Bly, Sign Up For David's Newsletter And Receive A Free Novelette! Click Here!