This is going to be a little raw. I hope you'll forgive me.
In the summer of 2012, my wife was directing me in Richard III at the Michigan Shakespeare Festival, flipping the script from twelve years earlier when I had directed her in the show. I was playing King Edward and then Richmond, and choreographing the fights. David Turrentine played Richard, and played him brilliantly.
Since Jan was busy running the festival and directing two shows, I decided I would take care of opening night gifts for the company. As we were doing R3, I bought everyone my favorite Richard novel, The Sunne In Splendour by Sharon Kay Penman. On a whim, though I didn't know her at all, I sent an email to Sharon through her website, letting her know she was about to gain a bunch of new fans, and thanking her for bringing me such joy through her writing.
Imagine my surprise and delight when she wrote back at once, insisting on sending autographed and personalized book plates for each of the thirty copies I was handing out. She also sent me a signed first edition for my own. Then she wrote to say she'd just devoured my latest novel, Her Majesty's Will, and asked if I would like to be interviewed by her.
Thus began my love affair with Sharon Kay Penman.
I say love affair because from the moment of that first interview, we started a really fun riff with me flirting with Sharon and Sharon treating me with arch disdain. We were both laughing so hard when the comments started coming in. And it carried over into our emails, calling each other "darling" and "dearest." I informed my wife I seemed to be having an affair with Sharon Kay Penman, and she said, "Well, if it has to be someone, I'm glad it's Sharon."
Two years later, a dear friend died of cancer, leaving her husband utterly bereft. Knowing he was a fan of Sharon's, I wrote and asked if she might send him a signed copy of a book. Being Sharon she did one better, sending him a letter along with the book. I don't know what it said, but he has kept it as a treasured possession.
That's who she was. The most amazing writer, and the most amazing human. Such generosity, such spirit, so large in so small a frame.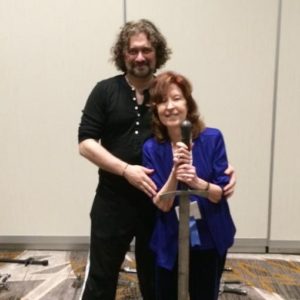 In 2015 we were both attending the Historical Novel Society conference in Denver. I was teaching writers the mechanics of sword fighting, and she was there to sign books and take part in a panel with Margaret George and Anne Easter Smith. Sharon suggested I moderate the panel, which was an amazing honor. And while she didn't feel up to swinging a sword, she attended my workshop, where I had her pose with a sword almost as tall as she was. She later asked if she could use that photo of us for her website.
Over the past 8 years we've chatted about everything and nothing. Football. Bernard Cornwell's Saxon series. Politics (lots of politics). Her never-ending battles with her computers, and the Deadline Dragon. Out of the blue, apropos of nothing, she'd reach out to ask about my Verona books, or to share something she saw, to ask after Jan and the kids, or the show I was doing. I did the same.
Our most recent exchange was in December, when she hinted at a serious health issue. This afternoon I found out that Sharon died today, and I am – lost. Bewildered. Gutted. Crushed. Bereft.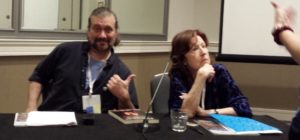 Books are the treasure an author leaves behind. Sharon will live on in the worlds and characters she created. I can imagine no better legacy.
But the books only hint at the glorious, dog-loving, football-following, sweet, kind, hilarious, generous soul we lost today. I was told today she treasured me as much as I did her, and I broke. For the rest of my career, and my life, whenever I have news or joy, it will be a little bitter now, because I won't get to share it with her.
But I will hold close to my heart the fact that for a brief time I was privileged enough to run alongside a giant of both words and spirit, and share in the beauty of Sharon Kay Penman. She was the true Lion Heart.